Overture Eco PLA Filament 1.75mm(Midnight Black)
Regular price
Sale price
$17.99 USD
Unit price
per
Sale
Sold out
INTRODUCTION
As a 3D printing manufacturer, we have always been devoting ourselves to making a better world via the 3D printing technologies. Although PLA is bio-degradablein certain circumstances, it still takes time and efforts to deal with it. We used to dispose our filaments which is not spooled enough for 1kg/(2.2lb) which was a waste and unfriendly to environment.
In 2021, with one year efforts, we invented the Loop-safe technology which can help us to use the "disposed filaments" as a portion of the raw material to make the new filaments without drop of the printing quality. Thus, the filaments were recycled, less carbon is emitted into our environment(and will reduce our carbonfootprint). According to the carbon emission calculator, it will reduce 2.07 lb (0.94kg) every roll, at least 440,924 lbs in total every year, equivalent to planting about 1,800 trees.   
We also applied basic packaging to this new filament to reduce the 2.2lb carbon emission for each roll to the world.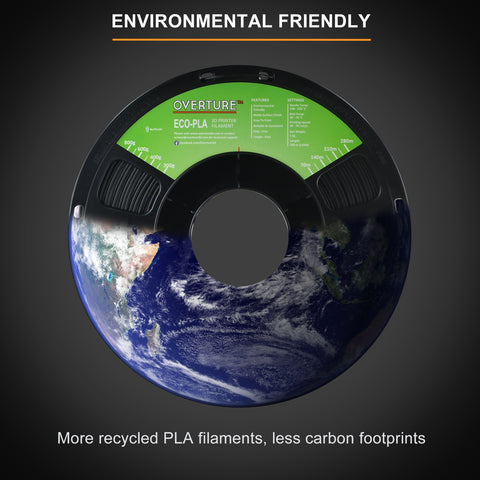 [Environmental-friendly & Outstanding Printing Quality]-- OVERTURE newly developed Loop-Safe technology contributes a lower carbon emission for a better protection of our environment, at the same time, the outstanding printing quality remains. (for more details of this PLA filaments, please roll to the descriptions

[Convenient Printing Experience] -- Great overhang performance and easily support removal features make this filament the ideal 3D filament for your genius designs

[Odorless & Bubble-Free] -- Excellent printing quality with minimal odor and nearly no warpage during printing; 24 hours drying and tightly vacuumed packaging keep you away from the troubles of moisture and bubbles.

[Dimensional Accuracy & Consistency] -- Advanced CCD diameter measuring and self-adaptive control system enable the 95.9% of the average diameter is within the + / - 0.02 mm tolerance and 99.9% of the average diameter is within + / - 0.05 mm(We claim our tolerance is + / - 0.05 because we can do this 99.9% well

[Cost-effective & Wide Compatibility] -- OVERTURE manufacture million tons of filaments every year, which benefits you with the cost-effective and reliable filaments for most common 3D printers, such as MK3, Ender 3, Monoprice, FlashForge and more  
Share